Mass Times
Dear Parishioner's

ST. BARNABAS CHURCH
SATURDAY MASS– 4:00PM
SUNDAY MASS– 9:30AM

ST. FRANCES CABRINI CHURCH
SUNDAY MASS 8:00AM

ST. THERESE CHURCH
SUNDAY MASS 11:00AM

DAILY MASSES: MONDAY-THURSDAY
8:00AM at ST. BARNABAS CHURCH

HOLY DAYS– AS SCHEDULED

SACRAMENT OF RECONCILIATION:
SATURDAY, 3:00PM-3:45PM AT
ST. BARNABAS CHURCH

Thank you for being a supporter and a valuable member of our community.
God Bless, Rev. Michael Santiago

Recorded Daily Mass on this website
Christmas Mass Schedule
Christmas Cards for the Homebound
Religious Education Students giving back to our community. The students worked on Christmas Cards for our
home bound parishioners.
Wreath and Kissing Ball orders pickup
Wreaths and Kissing Ball orders will be available for pick up on Sunday December 11th after 9:30am Mass at St Barnabas
Welcome

Welcome to St. Elizabeth of the Trinity Parish Website
REV. MICHAEL SANTIAGO, PASTOR
DEACONS - STEVE BILODEAU, AND RONNIE BICKNEL
St. Elizabeth of the Trinity Parish, is the Merger of the 3 Churches here in North Haven, Ct.
St. Frances Cabrini, St. Therese, and St. Barnabas.
The Parish Community of St. Elizabeth of the Trinity  aspires to be a family of faith, united in the church's mission to make disciples by proclaiming in word and action - the joy of the gospel, especially to those most in need of God's love and mercy.
---
Dear parishioners
I want to share with you a much needed project for the beatification of the interior of St. Barnabas Church that will occur over the next couple of months. Through communication from our Insurance Co. and with The Archdiocese of Hartford's approval as of Saturday, September 24th St. Barnabas Church will be going through a beatification process. Walls, to be painted, pews to be refinished, lighting where needed and new carpets to be installed. 
You can book masses from January 1, 2023 through June 30, 2023. Please call the Parish office from 9:30- 3:30 pm. From the beginning you will be able to schedule two weekend and two weekday Masses
St . Elizabeth of the Trinity Parish 2022 Annual Collection. Every parish family should havereceived a letter from Father Santiago this week asking for a contribution to our Annual Collection. The participation of ALL parishioners is essential for the success of this effort. Please return your gift card today. If you did not receive a letter, this may indicate that your family is not registered so please pick up a letter packet at the exits of church today– completing the registration card and gift card. 
You can also Register for the parish online by clicking Here

Thank you!
Office Hours
Parish Office / Rectory Hours
Monday - Friday 9:30 am - 3:00 pm

Religious Education Office Hours
Monday, Wednesday, & Thursday 4:30 to 7:30 pm
On Line Giving
Annual Collection Click above, Learn More
Thank You!
Marriages
To Schedule your wedding at St Elizabeth of the Trinity Parish, please contact the parish office. Learn More
St Therese Nursery School
Religious Education Information
Connect with Religious Education Coodinators, Ann Marie or Cecilia
Phone (203) 234-9287 or email [email protected]
Please be advised our office hours for emailing, returning or answering phone calls are Monday, Tuesday and Thursday between the hours of 4pm to 7:30pm.
Please reach us or stop by during these hours.
For 8th and 9th grade Syllabus please click here
---
If you are in need of community hours now is the time to call our office.


We especially now need all volunteers to help at all booths for our holiday bazaar.
All High School Students in need of volunteer hours, please connect with our Religous Education Office to help.
If you would be interested in being a part of our team as a catechist or helper, please contact the Religious Education office.
Please note: that tuition is waived for Volunteer Teachers.
For Registration Information please connect with our Religious Ed office.
God Bless Everyone,
Religious Education Coordinators, Ann Marie and Cecilia
Christmas Raffle
St. Elizabeth of the Trinity Parish Christmas Raffle To Benefit Parish Development Fund
Four Prizes to be awarded
1st Prize - $500 Cash Prize 2nd Prize - $300 Cash Prize
3rd Prize - $200 Cash Prize 4th Prize—$100 Cash Prize
Drawing: Sunday, December 18th, 2022 at 10:30 AM at St. Barnabas Church, 44 Washington Ave., North Haven, CT
Winner need not be present to win Tickets $2.00 Each
Woman's Club Ministry
SAVE THE DATE!
St. Elizabeth of the Trinity Parish Women's Club Members Christmas Party
Will be held on Friday, December 8th at 6:30pm at Luce's Restaurant, 2987 Whitney Ave Hamden CT. Come for fun and Dinner. This is a time to say thank
you to all of our women from the women's club for everything they do through out the year. Reservations will have to be made to attend! Please
call the parish office at 203-239-5378 for reservations prior to Wednesday, November 30th. Tickets are $38 per person and includes, Appetizers, salad, dinner and dessert with soda and coffee.

Click Here to Discover how you can Contribute to this Ministry

Social Action
Social Action Angel Tree Update
Angels will be on the trees at St. Therese and St Frances Cabrini churches the weekends of November 26,27 and December 3,4.
Please bring your wrapped gift to any Mass the weekend of December 10,11. It is very important that the Angel is securely fastened to your package to ensure that your gift goes to the correct agency. Please know that your gifts will bring much joy to those who receive them.
If you have any questions please call Barbara Radigan at 203-239-7839.
Knights of Columbus Father James F. Donaher Council #3733
Mass on Feast Day of Michael McGivney
Knights of Columbus - Father James F. Donaher Council #3733 and the Commodore John Barry Assembly 097 – 4th Degree Honor Guard want to thank Father Michael Santiago for hosting and celebrating the beautiful Memorial Mass of Blessed Michael McGivney last Saturday at St. Barnabas. The North Haven Council of Knights presented K of C Vestments to Father Santiago before the Mass.
Blog Summary
Posted in KIDS CORNER on 12/04/22
Sharing the Gospel
John the Baptist taught people to get ready for Jesus. He ... Read More »
Posted in SAINT OF THE WEEK on 12/04/22
Saint Ambrose was born to an aristocratic Roman Christian family in 339 in ... Read More »
Weekly reading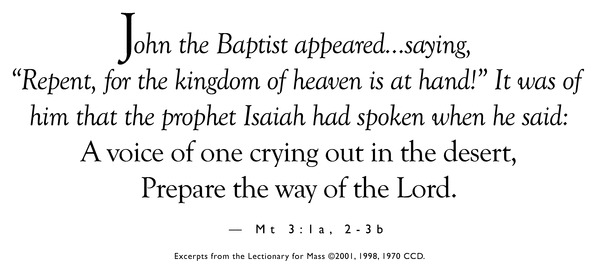 Weekly reading
Readings for the week of December 4, 2022
© Liturgical Publications Inc
Archbishop's Annual Appeal
Thanks to the generosity of donors to the Archbishop's Annual Appeal our Church is able to provide much needed assistance to thousands of people each year. By uniting our efforts as an Archdiocesan family of faith we serve people in ways above and beyond what any one parish or organization could accomplish alone. We are truly Stronger Together, which is the theme of the Appeal for 2022. Read More.
---
DONATE NOW BELOW!
Thank you for considering a contribution to the 2022 Archbishop's Annual Appeal. Your support will assist the Archdiocese of Hartford to continue its mission of service
To conveniently make a donation or pledge to the Appeal, you are invited to use the secure online form below using your credit (MC, Visa, Discover or American Express) or debit (MC, Visa) card.
Please note that our online form is completely secure and that the information you provide will not be distributed or sold to any other party for any reason. If you prefer not to use our secure online contribution form, please feel free to donate by mail.
THANK YOU to all who generously contributed to the 2021 Archbishop's Annual Appeal
DONATE NOW
Parish Communication
Please do not leave your car parked at the St. Frances Cabrini Church Parking lot after 8 AM Mass. The gate is locked immediately after the Mass. Thank you!
Special Communion Distrabution:
On Mondays, we will be at the parking lot door of Saint Barnabas Church from 2:00 - 2:30 pm distributing Holy Communion to anyone who is unable to attend Mass due to compromised heath issues because of Covid 19. Please note Communion will be given at the Sacristy door. There is no need to make an
appointment.
DURING THE RENOVATION OF THE CHURCH, COMMUNION WILL CONTINUE TO BE GIVEN AT ST. BARNABAS CHURCH OUTSIDE. THERE WILL BE NO ADMITTANCE INTO THE CHURCH.
Mass Bookings: Bookings can be done in person or over the phone. Please call 203-239-5378 during regular office hours (9:30am to 3pm, Mon. - Fri.) Absolutely no requests can be made by email.
Bulletin Submissions: Please email the info by Tuesdays at 11:00am to: [email protected]
Religious Education Information:
Information regarding registration for religious education is available here Please feel free to contact the religious education office at 203-234-9287 or [email protected] with any questions or concerns. Learn More
Parish Envelopes: The envelopes have been ordered since August and are on back order. The Envelope Company has been having staffing problems besides a paper shortage. As soon as we have more information, we will keep you updated and informed. Please donate by either our online tab or please make sure your name and address is listed on a plain envelope when making a donation.
The envelopes will be in one box for the entire year. Envelopes will be available at Saint Barnabas Church. Please contact Marie or Sharon in the office at 203-239-5378 for any questions. We will have extra boxes on hand. Please let us know if you no longer wish to use your envelopes so we can note our system.
Once envelopes are in please let us know if you cannot find your box.
Thank you all for your patience!
Poor Box: Special envelopes are available marked "Poor Box." If you wish to make a contribution to the poor, please put these envelopes in the collection
basket.
FOR IRS CHARITABLE DONATIONS:
To all Parishioners for IRS charitable donations: If you are a registered parishioner and use the envelopes, we can provide you with documentation of your contributions to the parish for tax purposes
Call the Parish office during business hours 9AM –3PM at 203-239-5378 or fill out the form. The form for 2021 can be downloaded HERE
Thank You!
SPONSOR CERTIFICATES: You must be a registered, active member of St. Elizabeth of the Trinity Parish in order to obtain a sponsor certificate. Please call the parish office at least three weeks before the Baptism or celebration of Confirmation.
Thank you.
To Submit Information For Our Website: Please email Webmaster
note: Father Santiago must approve all submissions.
Thank you for your cooperation, Marie and Sharon

HOW TO REPORT AN INCIDENT OF SEXUAL ABUSE
TO THE ARCHDIOCESE OF HARTFORD

If you have knowledge or suspect that a minor or vulnerable adult (an adult with an intellectual disability) has been sexually abused, in any manner, by personnel of the Archdiocese of Hartford, you are urged to report this information to:
Kathleen D. Nowosadko
Victim Assistance Coordinator
860-541-6475
[email protected]

In addition, you will be asked to follow up in writing with a detailed description of the facts involved in the incident. Specifics of this written report can be found in the Policies and Procedures of the Archdiocese of Hartford Relating to Allegations of Sexual Misconduct Involving Minors and Vulnerable Adults. This document is also available online at www.archdioceseofhartford.org. The Archdiocese of Hartford will report any and all incidents to the proper civil authorities.
Mandated reporters in the State of Connecticut are required by law to report any incident of sexual abuse involving a minor or vulnerable adult. We encourage any Non-Mandated persons to report such incidents to the proper authorities as well. We support your right to do so.
Incidents involving sexual abuse of minors (persons under the age of 18) should be reported to:
State Department of Children and Families Care-line
1-800-842-2288
Incidents involving sexual abuse of vulnerable adults aged 18 – 59 should be reported to the:
Connecticut Department of Developmental Services – AID Division
for Persons with Intellectual Disabilities
1-844-878-8923
Incidents involving sexual abuse of vulnerable adults aged 60 and over should be reported to:
Department of Social Services for the Elderly
1-888-385-4225
Once a written report of an incident of sexual abuse of a minor or vulnerable adult has been received, an investigation will be undertaken by, or on behalf of, the Archdiocese of Hartford.