Bulletin Correction - The Parish office will be closed on Tuesday April 4th and Reopen Wednesday April 5th
Thank you!
Welcome
Welcome to our Parish
St. Elizabeth of the Trinity Parish, is the Merger of the 3 Churches in
North Haven,  St. Frances Cabrini, St. Therese, and St. Barnabas.

---
The Religious Ed, Thursday 4:30, 3rd grade class made Easter Cards for our homebound parishioners! 
SCHEDULE FOR HOLY WEEK
SCHEDULE FOR HOLY WEEK Passion (Palm) Sunday
Regular weekend schedule
Walk Every Step with Christ
Holy Week is a week for being mindful. We must set loose the baggage of Lent, and not be deterred by the dazzling sunrise of Easter morning beckoning in the distance.
It's okay for us to be excited for Easter. We've waited so long, after all. In my opinion it's one of the best feelings there is: the yearning we have in our hearts for the Resurrection as we embark on Palm Sunday. And in a purely logical sense, many of us have Easter celebrations for which we are preparing, and practical considerations to contend with. It's going to be a busy week, one likely full of happy distractions.
But my friends, we simply must keep our feet on the ground. Let's not "skip" Holy Week. Resist the urge to flip to the last page of the book, to fast-forward to the final scene of the movie. Don't rob yourself of the journey. This week is a blessed opportunity. It is this week that teaches us who we are. In the span of the Triduum, we have the birthday of the priesthood, the institution of the Eucharist, the sacrifice on Calvary and so many other vivid and meaningful scenes.
It may sound strange, to advise someone to savor the moments of Holy Week. There are so many violent and heartrending moments, after all. But this is the valley of tears, remember — we are not in Heaven yet. And here, in our fallen, sin-filled world, it is the heartrending moments that seem to matter the most.
These are the moments that define us as Catholics. Live them. Cherish them. Be present for each one.
Rev. Michael Santiago, Pastor
Steve Bilodeau, Deacon
Ronnie Bicknell, Deacon

We would like our parish family to welcome our Interim priest in residence
Fr. Thomas Joseph!
In Father Santiago'absence Deacon Ernie Scivani has been
appointed administrator to our parish.
Mass Times
Dear Parishioner's

ST. BARNABAS CHURCH
SATURDAY MASS– 4:00PM
SUNDAY MASS– 9:30AM

ST. FRANCES CABRINI CHURCH
SUNDAY MASS 8:00AM

ST. THERESE CHURCH
SUNDAY MASS 11:00AM

DAILY MASSES: MONDAY-THURSDAY
8:00AM at ST. BARNABAS CHURCH

HOLY DAYS– AS SCHEDULED

SACRAMENT OF RECONCILIATION:
SATURDAY, 3:00PM-3:45PM AT
ST. BARNABAS CHURCH

Thank you for being a supporter and a valuable member of our community.
God Bless, Rev. Michael Santiago

Recorded Daily Mass on this website
Scarament of Reconciliation during Lent
Woman's Club Ministry
Visit our Womans Club Ministry webpage to Learn More
Request Form for 2022 Tax Statement
Office Hours
Parish Office / Rectory Hours
Monday - Friday 9:30 am - 3:00 pm

Religious Education Office Hours
Monday, Wednesday, & Thursday 4:30 to 7:30 pm
On Line Giving
Annual Collection Click above, Learn More
Thank You!
Events
March

S

un

M

on

T

ue

W

ed

Th

u

F

ri

S

at

1
2
3
4
5
6
7
8
9
10
11
12
13
14
15
16
17
18
19
20
21
22
23
24
25
26
27
28
29
30
31
Marriages
To Schedule your wedding at St Elizabeth of the Trinity Parish, please contact the parish office. Learn More
Social Action
SOCIAL ACTION MEETING
Our next meeting will take place on Monday, February 6 at 7:00 PM in St. Frances Cabrini Church Hall. New members are always welcome.

SOCIAL ACTION FEBRUARY 18,19 OUTREACH
Social Action will be collecting adult and children's hats, gloves, scarves, mittens, socks and underwear. We will also be collecting children's and adult diapers and wipes. The donated items will go to BHCARE which is an organization that helps children, adults, and families dealing with mental health issues. Their office is Located on Washington Avenue.

Volunteers will be in the church parking lot before each Mass on February 18,19 to collect your donations.
We appreciate your generosity in helping us to care for our brothers and sisters in need.
Religious Education Information
Connect with Religious Education Coodinators, Ann Marie or Cecilia
Phone (203) 234-9287 or email [email protected]
Please be advised our office hours for emailing, returning or answering phone calls are Monday, Tuesday and Thursday between the hours of 4pm to 7:30pm.
Please reach us or stop by during these hours.
Please note Relegious Education registration for 2023 2024 Classes, will be online only, and it will open up in June.
Stay tuned for more information.
For 8th and 9th grade Syllabus please click here
---
If you are in need of community hours now is the time to call our office.


We especially now need all volunteers to help at all booths for our holiday bazaar.
All High School Students in need of volunteer hours, please connect with our Religous Education Office to help.
If you would be interested in being a part of our team as a catechist or helper, please contact the Religious Education office.
Please note: that tuition is waived for Volunteer Teachers.
For Registration Information please connect with our Religious Ed office.
God Bless Everyone,
Religious Education Coordinators, Ann Marie and Cecilia
Parish Festival June 22, 23, & 24
Become a Festival Sponsor Click here
Our parish Festival will soon be here. This years Festival is going to be held from, Thursday June 22 to Saturday June 24. 2023. The hours are Thursday and Friday 6pm to 10pm and Saturday from 4 pm to 10 pm. The festival is held on the grounds of St. Therese Church. 555 Middletown Ave., North Haven, CT. 06473. Admission is free! Free Parking!
There will be Nightly Entertainment. Rides, Games, Raffles, Great Food, for all ages.
The foods available will be: Fried Dough, Sausage and Peppers, Meatballs, Hotdogs, Hamburgers, Cheeseburgers, French Fries, Chicken Nuggets, Steak and Cheese, Grilled Cheese, Italian Ice, and many other Desserts. Refreshments available in our café', will be Coffee, Cappuccino, Espresso, Bottled Water, and Soda.
Your Support is very much needed and appreciated.
We need your help too, to become a volunteer please call the parish office 203-239-5378
Knights of Columbus Father James F. Donaher Council #3733
On January 8th - there is a mass in honor of Lt. Dustin Demonte @ 9:30 AM at St. Barnabas Parish, Following mass there is a coffee and, andin addition we will be pulling our final winners for the raffle.
Knights of Columbus - Father James F. Donaher Council #3733 and the Commodore John Barry Assembly 097 – 4th Degree Honor Guard want to thank Father Michael Santiago for hosting and celebrating the beautiful Memorial Mass of Blessed Michael McGivney last Saturday at St. Barnabas. The North Haven Council of Knights presented K of C Vestments to Father Santiago before the Mass.
Weekly reading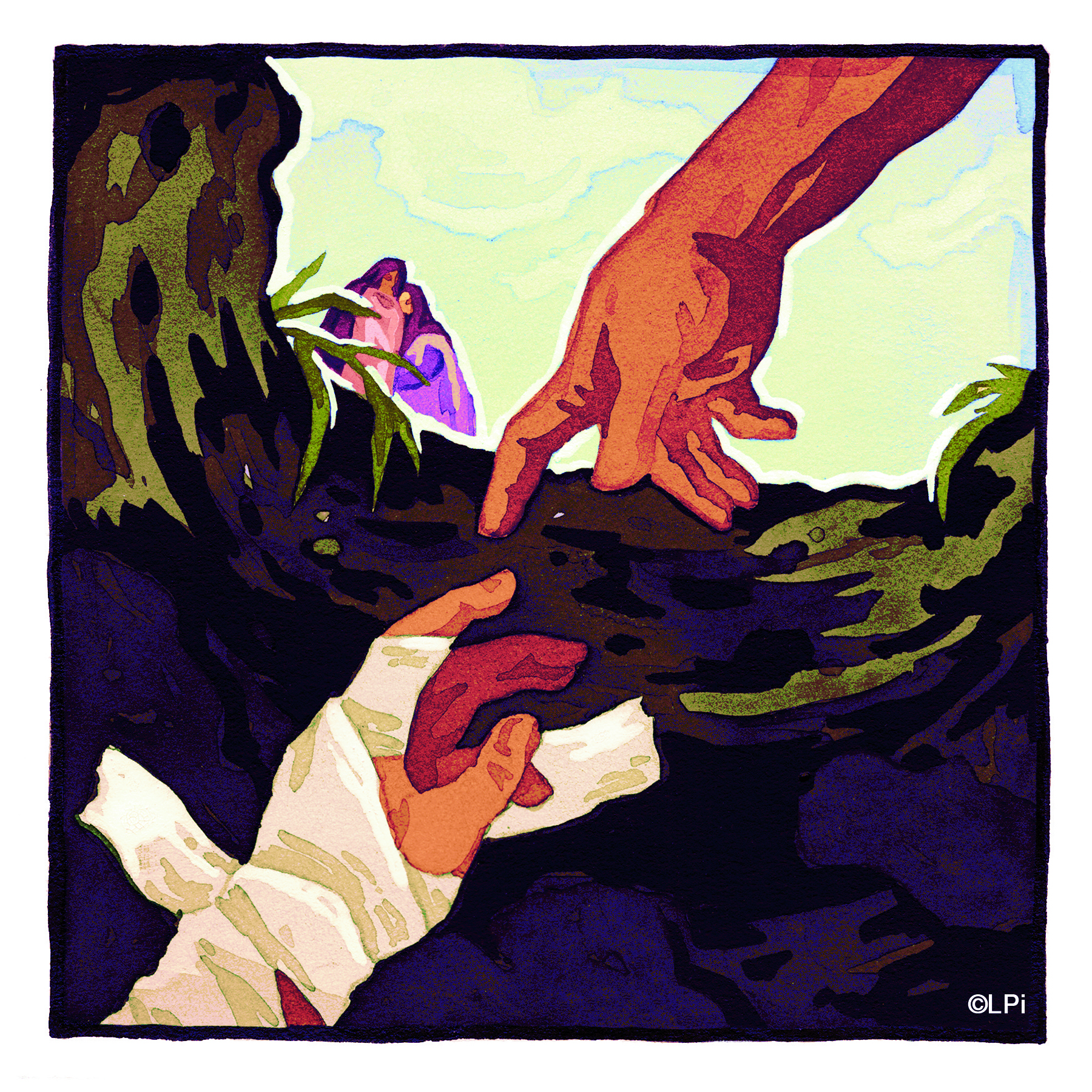 Weekly reading
Readings for the week of March 26, 2023
© Liturgical Publications Inc
Quotes
Blog Summary
Posted in SAINT OF THE WEEK + Venerable – the title given to a candidate for sainthood whose cause has not yet reached the beatification stage but whose heroic virtue has been declared by the pope. on 03/29/23
St. Pedro Calungsod | April 2
Short Bio — Great for social media or ... Read More »
Posted in RECOGNIZE GOD IN YOUR ORDINARY MOMENTS
Making Way for God 
As Christ reclined at the Passover meal and his impending ... Read More »
Posted in LIVE THE LITURGY - INSPIRATION FOR THE WEEK on 03/29/23
LIVE THE LITURGY - INSPIRATION FOR THE WEEK
Our relationship with Christ should leave ... Read More »
Parish Communication
Please do not leave your car parked at the St. Frances Cabrini Church Parking lot after 8 AM Mass. The gate is locked immediately after the Mass. Thank you!
Special Communion Distrabution:
On Mondays, we will be at the parking lot door of Saint Barnabas Church from 2:00 - 2:30 pm distributing Holy Communion to anyone who is unable to attend Mass due to compromised heath issues because of Covid 19. Please note Communion will be given at the Sacristy door. There is no need to make an
appointment.
DURING THE RENOVATION OF THE CHURCH, COMMUNION WILL CONTINUE TO BE GIVEN AT ST. BARNABAS CHURCH OUTSIDE. THERE WILL BE NO ADMITTANCE INTO THE CHURCH.
Mass Bookings: Bookings can be done in person or over the phone. Please call 203-239-5378 during regular office hours (9:30am to 3pm, Mon. - Fri.) Absolutely no requests can be made by email.
Bulletin Submissions: Please email the info by Tuesdays at 11:00am to: [email protected]
Religious Education Information:
Information regarding registration for religious education is available here Please feel free to contact the religious education office at 203-234-9287 or [email protected] with any questions or concerns. Learn More
Parish Envelopes: The envelopes have been ordered since August and are on back order. The Envelope Company has been having staffing problems besides a paper shortage. As soon as we have more information, we will keep you updated and informed. Please donate by either our online tab or please make sure your name and address is listed on a plain envelope when making a donation.
The envelopes will be in one box for the entire year. Envelopes will be available at Saint Barnabas Church. Please contact Marie or Sharon in the office at 203-239-5378 for any questions. We will have extra boxes on hand. Please let us know if you no longer wish to use your envelopes so we can note our system.
Once envelopes are in please let us know if you cannot find your box.
Thank you all for your patience!
Poor Box: Special envelopes are available marked "Poor Box." If you wish to make a contribution to the poor, please put these envelopes in the collection
basket.
FOR IRS CHARITABLE DONATIONS:
To all Parishioners for IRS charitable donations: If you are a registered parishioner and use the envelopes, we can provide you with documentation of your contributions to the parish for tax purposes
Please fill out the form. The form for last year can be downloaded HERE .
Thank You!
SPONSOR CERTIFICATES: You must be a registered, active member of St. Elizabeth of the Trinity Parish in order to obtain a sponsor certificate. Please call the parish office at least three weeks before the Baptism or celebration of Confirmation.
Thank you.
To Submit Information For Our Website: Please email Webmaster
note: Father Santiago must approve all submissions.
Thank you for your cooperation, Marie and Sharon

HOW TO REPORT AN INCIDENT OF SEXUAL ABUSE
TO THE ARCHDIOCESE OF HARTFORD

If you have knowledge or suspect that a minor or vulnerable adult (an adult with an intellectual disability) has been sexually abused, in any manner, by personnel of the Archdiocese of Hartford, you are urged to report this information to:
Kathleen D. Nowosadko
Victim Assistance Coordinator
860-541-6475
[email protected]

In addition, you will be asked to follow up in writing with a detailed description of the facts involved in the incident. Specifics of this written report can be found in the Policies and Procedures of the Archdiocese of Hartford Relating to Allegations of Sexual Misconduct Involving Minors and Vulnerable Adults. This document is also available online at www.archdioceseofhartford.org. The Archdiocese of Hartford will report any and all incidents to the proper civil authorities.
Mandated reporters in the State of Connecticut are required by law to report any incident of sexual abuse involving a minor or vulnerable adult. We encourage any Non-Mandated persons to report such incidents to the proper authorities as well. We support your right to do so.
Incidents involving sexual abuse of minors (persons under the age of 18) should be reported to:
State Department of Children and Families Care-line
1-800-842-2288
Incidents involving sexual abuse of vulnerable adults aged 18 – 59 should be reported to the:
Connecticut Department of Developmental Services – AID Division
for Persons with Intellectual Disabilities
1-844-878-8923
Incidents involving sexual abuse of vulnerable adults aged 60 and over should be reported to:
Department of Social Services for the Elderly
1-888-385-4225
Once a written report of an incident of sexual abuse of a minor or vulnerable adult has been received, an investigation will be undertaken by, or on behalf of, the Archdiocese of Hartford.