Dear parishioners
I want to share with you a much needed project for the beatification of the interior of St. Barnabas Church that will occur over the next couple of months. Through communication from our Insurance Co. and with The Archdiocese of Hartford's approval as of Saturday, September 24th St. Barnabas Church will be going through a beatification process. Walls, to be painted, pews to be refinished, lighting where needed and new carpets to be installed. Also, what this means is our Mass schedule will be as follows:
 Our Mass schedule as of September 24, 2022 and UNTIL FURTHER NOTICE:
ST. THERESE CHURCH
SATURDAY MASS– 4:00PM 
SUNDAY MASS– 9:30AM & 11:00AM

FRANCES CABRINI CHURCH
SUNDAY MASS 8:00AM
ST THERESE CHURCH
DAILY MASSES: MONDAY-THURSDAY 8:00AM
HOLY DAYS:
 AS SCHEDULED
ST. THERESE CHURCH
SACRAMENT OF RECONCILIATION:
SATURDAY, 3:00PM-3:45PM 


Thank you for being a supporter and a valuable member of our community. 
God Bless, Rev. Michael Santiago
Welcome to St. Elizabeth of the Trinity Parish Website
REV. MICHAEL SANTIAGO, PASTOR
DEACONS - STEVE BILODEAU, AND RONNIE BICKNEL
St. Elizabeth of the Trinity Parish, is the Merger of the 3 Churches here in North Haven, Ct.

St. Frances Cabrini, St. Therese, and St. Barnabas.
The Parish Community of St. Elizabeth of the Trinity  aspires to be a family of faith, united in the church's mission to make disciples by proclaiming in word and action - the joy of the gospel, especially to those most in need of God's love and mercy.
Office Hours
Monday - Friday 9:30 am - 3:00 pm
Confirmation
Confirmation is November 20, 2022 @ 2 PM. The Location is St Joseph's Cathedral.

140 Farmington Avenue
Hartford, CT 06105
**Please note you must be Registered with the parish before you register your child for Faith Formation. If you're not sure, please call the main office to verify at 203-239-5378.**
As of Monday September 5, 2022, You will only be able to Register for Confirmation Class online. The fee is $85.00
If you would like to Register for Religious Ed classes for grade 1 through 9, please call the faith formation office 203-234-9287 or email [email protected]
Fees for religious education offering are as follows:
1 Child $80.00; - 2 Children $130.00; - 3 or more Children $155.00

Confirmation is $85.00
The following is a list of guidelines and information as we prepare for our upcoming catechetical year together. Online Registration is closed except for confirmation classes. Once classes are at full capacity the remaining option is home school. The number of classes available will be based on the number of Volunteers that will be teaching.
If you would be interested in being a part of our team as a catechist or helper, please contact the Religious Education office at (203) 234-9287 or [email protected] Please note that tuition is waived for Volunteer Teachers.
Please follow the prompts for Religious Education and Registration.
God Bless Everyone,
Religious Education Coordinators
On Line Giving
Annual Collection Click above, Learn More
Thank You!
Mass Times
Dear Parishioner's

This is a temporary schedule for the upcoming months. Due to the beautification process that is taking place at St Barnabas Church.

Our Mass schedule as of September 24, 2022 and UNTIL FURTHER NOTICE:
ST. THERESE CHURCH
SATURDAY MASS– 4:00PM
SUNDAY MASS– 9:30AM & 11:00AM

FRANCES CABRINI CHURCH
SUNDAY MASS 8:00AM

ST THERESE CHURCH
DAILY MASSES: MONDAY-THURSDAY 8:00AM

HOLY DAYS:
AS SCHEDULED

ST. THERESE CHURCH
SACRAMENT OF RECONCILIATION:
SATURDAY, 3:00PM-3:45PM

Thank you for being a supporter and a valuable member of our community.
God Bless, Rev. Michael Santiago

Recorded Daily Mass on this website
Parish Christmas Bazaar
Save The Date for our Christmas Bazaar
Our Christmas Bazaar will take place
Friday, November 11th from 5-8pm
&
Saturday, November 12th from 9am-3pm
at St Frances Cabrini Church Hall
(Handicap accessible).
More information will follow.
Woman's Club Ministry
Do you want to Have fun? Meet new friends, Have fun? Serve your community,
Have fun? Support your Parish, Have fun?
How can you do all this and more?
Join our St. Elizabeth of the Trinity Women's Club. Membership dues is $10 per year

Click Here to Discover how you can Contribute to this Ministry

Religious Education Fundraiser
CAR WASH FUNDRAISER

The Religious Education Students will be selling tickets for their upcoming carwash that will be held on October 8th at the McDonalds at 129 Washington Ave across from Dunkin Donuts. Tickets will be on sale for $5 after Mass on the weekend of October 1st & 2nd or you can call the main office at 203-239-5378 or Religious Ed at 203-234-9287 to help support this fundraiser.
(Pictured are Cecilia Waldron, Co-Religious Education Coordinator, and Marie Barecchia, Parish Secretary)
God Bless Everyone,
Religious Education Coordinators
Archdiocese of Hartford 2022 Marriage Anniversary Celebration Mass
Marriage Anniversary Celebration Mass Sunday, October 16 at 2:00 PM at Cathedral of Saint Joseph, Hartford, CT.
All those married couples in the Archdiocese of Hartford who are observing their 25th, 50th, 60th, and other special wedding anniversaries in 2022 are invited to join Archbishop Blair for this special anniversary Mass. Couples can register to attend online at bit.ly/aohmarriagemass to access the registration form.
You can bring as many guests you would like to celebrate with you.
Once you register, additional material will be sent to you providing you with the information you will need to know for the Mass.
You can register up to the date of the ceremony, but you are encouraged to register by October 10, 2022, this way your name will be included in the Mass program.
St Therese Nursery School
Social Action
Next weekend, September 24, 25, Social Action will have the first of four food drives. Volunteers will be in the church parking lot 25 minutes before each Mass to collect your donations. Suggested food items are: Tuna Fish, Canned Chicken, Peanut Butter, Jelly, Coffee, Tea, Mayonnaise, Ketchup, Mustard, Canned Soups and Stews, Dried and Baked Beans, Canned Vegetables and Fruits, Pasta and Sauce, Instant Potatoes, Macaroni and Cheese, Canned and Powdered Milk, Cereal, 100% Fruit Juice, Cake Mix, Brownie Mix, Knorr's Rice and Pasta Side Dishes. We do not need baby food, sugar or flour.
We are grateful to our parish family for your ongoing generosity.
Knights of Columbus Father James F. Donaher Council #3733
Mass on Feast Day of Michael McGivney
Knights of Columbus - Father James F. Donaher Council #3733 and the Commodore John Barry Assembly 097 – 4th Degree Honor Guard want to thank Father Michael Santiago for hosting and celebrating the beautiful Memorial Mass of Blessed Michael McGivney last Saturday at St. Barnabas. The North Haven Council of Knights presented K of C Vestments to Father Santiago before the Mass.
---
We are again launching its 20/20 raffle to help support our Council's charitable goals and allow us to continue to serve our Parish and community at all three church's on the weekends of August 20 & 21 and August 27 & 28. $2,500 in cash awards are disbursed. over a 20 week period.
Blog Summary
Posted in SAINT OF THE WEEK on 09/24/22
You may know St. Wenceslaus better than you think, he is in fact, the ... Read More »
Posted in EVERYDAY STEWARDSHIP - RECOGNIZE GOD IN YOUR ORDINARY MOMENTS on 09/24/22
Picture it: family game night. What are you playing? Monopoly? Clue? Chess? Poker?
... Read More »
Posted in CATHOLIC QUESTIONS on 09/24/22
St. Jerome
Question: Who is St. Jerome and why is he so significant that ... Read More »
GOSPEL MEDITATION - ENCOURAGE DEEPER UNDERSTANDING OF SCRIPTURE
September 25, 2022
26th Sunday in Ordinary Time
"If they will not listen to Moses and the prophets, neither will they be persuaded if someone should rise from the dead." Regardless of how the message of faith is received, a total conversion of mind and heart is needed for it to take root and have meaning. It is easy to become complacent and comfortable with all that life can afford us. Life can become "all about me," preserving my livelihood and protecting my securities. Often, this drive can become so strong that we eagerly strive to protect our self-interests at the expense of others. Other people are necessary only to the extent that they are "useful" to us and profitable.
Merriam-Webster defines entitlement as "the belief that one is deserving of or entitled to certain privileges." In a world that pretends to offer us so many necessities, this is perhaps the greatest contemporary sin. When we feel "entitled" to something, even if it is perceived necessary, our relationships can get skewed. Unless we adopt a global vision of entitlement wherein everyone is entitled to the same things, we risk becoming extremely self-focused and selfish. All we care about is defending our rights and protecting our turf. This impulse can be so strong that we pursue it even at the expense of another. Is this what God intends for his children?
Holding on to this myopic vision, the plight and station of others are off our radar and of no real concern to us. Relying on our own merits and becoming resilient to life's challenges, we replace the true and real God with the one we created ourselves. Jesus and the prophets before him have consistently reminded us of the dangers of wealth, ignoring the poor and the needy, and becoming too fiercely independent and arrogant. Yet, we conduct our lives as if that message has never been preached. We give our faith a nod and never consider for a moment that we may be wrong in terms of what we see as important. "The things that we love tell us what we are (attributed to St. Thomas Aquinas)." Ponder those words a bit and remember that when we leave this world and go to the next one, what we loved here is what we will look for there. What we sought here may not be there.
Weekly reading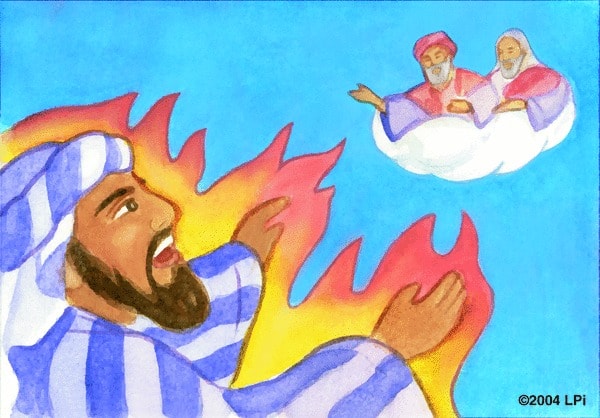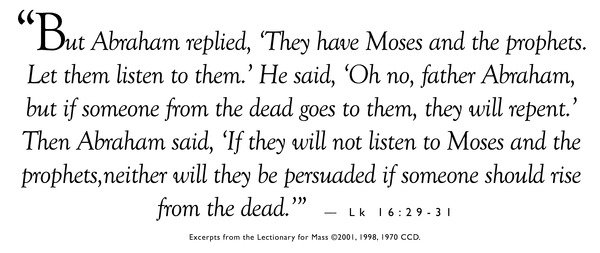 Weekly reading
Readings for the week of September 25, 2022
© Liturgical Publications Inc
Live the Liturgy
We can be blindly arrogant and selfish. For some, the lens through which we view life is the lens of self-benefit. Having this myopic vision, the plight and station of others are off our radar and of no genuine concern. Being self-sufficient and resilient, we can wonder if all of this "God-talk" is for real. If we believe we are solely responsible for our destiny and well-being, what place is there for God? Tangible faith requires an actual change of heart, a conversion. It involves walking a courageous journey of transformation that consists of a shift in priorities and focus.
Humility becomes the order of the day. An authentic loving relationship with God blossoms within a person's soul. God becomes an ever-faithful companion. Whether this faith is stumbled upon because of messages heard from prophets in our midst or from someone coming back from the dead, the journey is the same. Faith has to be owned and become something permanent. If we are unwilling to lose the arrogance, any truth-filled message will fall on deaf ears.
Archbishop's Annual Appeal
Thanks to the generosity of donors to the Archbishop's Annual Appeal our Church is able to provide much needed assistance to thousands of people each year. By uniting our efforts as an Archdiocesan family of faith we serve people in ways above and beyond what any one parish or organization could accomplish alone. We are truly Stronger Together, which is the theme of the Appeal for 2022. Read More.
---
DONATE NOW BELOW!
Thank you for considering a contribution to the 2022 Archbishop's Annual Appeal. Your support will assist the Archdiocese of Hartford to continue its mission of service
To conveniently make a donation or pledge to the Appeal, you are invited to use the secure online form below using your credit (MC, Visa, Discover or American Express) or debit (MC, Visa) card.
Please note that our online form is completely secure and that the information you provide will not be distributed or sold to any other party for any reason. If you prefer not to use our secure online contribution form, please feel free to donate by mail.
THANK YOU to all who generously contributed to the 2021 Archbishop's Annual Appeal
DONATE NOW
Events
September

S

un

M

on

T

ue

W

ed

Th

u

F

ri

S

at

1
2
3
4
5
6
7
8
9
10
11
12
13
14
15
16
17
18
19
20
21
22
23
24
25
26
27
28
29
30
Parish Communication
Please do not leave your car parked at the St. Frances Cabrini Church Parking lot after 8 AM Mass. The gate is locked immediately after the Mass. Thank you!
Special Communion Distrabution:
On Mondays, we will be at the parking lot door of Saint Barnabas Church from 2:00 - 2:30 pm distributing Holy Communion to anyone who is unable to attend Mass due to compromised heath issues because of Covid 19. Please note Communion will be given at the Sacristy door. There is no need to make an
appointment.
DURING THE RENOVATION OF THE CHURCH, COMMUNION WILL CONTINUE TO BE GIVEN AT ST. BARNABAS CHURCH OUTSIDE. THERE WILL BE NO ADMITTANCE INTO THE CHURCH.
Mass Bookings: Bookings can be done in person or over the phone. Please call 203-239-5378 during regular office hours (9:30am to 3pm, Mon. - Fri.) Absolutely no requests can be made by email.
Bulletin Submissions: Please email the info by Tuesdays at 11:00am to: [email protected]
Religious Education Information:
Information regarding registration for religious education is available here Please feel free to contact the religious education office at 203-234-9287 or [email protected] with any questions or concerns. Learn More
Parish Envelopes: The envelopes have been ordered since August and are on back order. The Envelope Company has been having staffing problems besides a paper shortage. As soon as we have more information, we will keep you updated and informed. Please donate by either our online tab or please make sure your name and address is listed on a plain envelope when making a donation.
The envelopes will be in one box for the entire year. Envelopes will be available at Saint Barnabas Church. Please contact Marie or Sharon in the office at 203-239-5378 for any questions. We will have extra boxes on hand. Please let us know if you no longer wish to use your envelopes so we can note our system.
Once envelopes are in please let us know if you cannot find your box.
Thank you all for your patience!
Poor Box: Special envelopes are available marked "Poor Box." If you wish to make a contribution to the poor, please put these envelopes in the collection
basket.
FOR IRS CHARITABLE DONATIONS:
To all Parishioners for IRS charitable donations: If you are a registered parishioner and use the envelopes, we can provide you with documentation of your contributions to the parish for tax purposes
Call the Parish office during business hours 9AM –3PM at 203-239-5378 or fill out the form. The form for 2021 can be downloaded HERE
Thank You!
SPONSOR CERTIFICATES: You must be a registered, active member of St. Elizabeth of the Trinity Parish in order to obtain a sponsor certificate. Please call the parish office at least three weeks before the Baptism or celebration of Confirmation.
Thank you.
To Submit Information For Our Website: Please email Webmaster
note: Father Santiago must approve all submissions.
Thank you for your cooperation, Marie and Sharon

HOW TO REPORT AN INCIDENT OF SEXUAL ABUSE
TO THE ARCHDIOCESE OF HARTFORD

If you have knowledge or suspect that a minor or vulnerable adult (an adult with an intellectual disability) has been sexually abused, in any manner, by personnel of the Archdiocese of Hartford, you are urged to report this information to:
Kathleen D. Nowosadko
Victim Assistance Coordinator
860-541-6475
[email protected]

In addition, you will be asked to follow up in writing with a detailed description of the facts involved in the incident. Specifics of this written report can be found in the Policies and Procedures of the Archdiocese of Hartford Relating to Allegations of Sexual Misconduct Involving Minors and Vulnerable Adults. This document is also available online at www.archdioceseofhartford.org. The Archdiocese of Hartford will report any and all incidents to the proper civil authorities.
Mandated reporters in the State of Connecticut are required by law to report any incident of sexual abuse involving a minor or vulnerable adult. We encourage any Non-Mandated persons to report such incidents to the proper authorities as well. We support your right to do so.
Incidents involving sexual abuse of minors (persons under the age of 18) should be reported to:
State Department of Children and Families Care-line
1-800-842-2288
Incidents involving sexual abuse of vulnerable adults aged 18 – 59 should be reported to the:
Connecticut Department of Developmental Services – AID Division
for Persons with Intellectual Disabilities
1-844-878-8923
Incidents involving sexual abuse of vulnerable adults aged 60 and over should be reported to:
Department of Social Services for the Elderly
1-888-385-4225
Once a written report of an incident of sexual abuse of a minor or vulnerable adult has been received, an investigation will be undertaken by, or on behalf of, the Archdiocese of Hartford.