Welcome to St. Elizabeth of the Trinity Parish Website
REV. MICHAEL SANTIAGO, PASTOR
DEACONS - STEVE BILODEAU, AND RONNIE BICKNEL

St. Elizabeth of the Trinity Parish, is the Merger of the 3 Churches here in North Haven, Ct.
St. Frances Cabrini, St. Therese, and St. Barnabas.
Office Hours
Monday - Friday 9:30 am - 3:00 pm
Attention Religious Education Parents,
Religious Education online registration is now available.
Fees for religious education offering are as follows:
1 Child $80.00;

2 Children $130.00;

3 or more Children $155.00;
We pray you are keeping healthy and safe and enjoying this warmer weather.
The following is a list of guidelines and information as we prepare for our upcoming catechetical year together. Registration is ongoing. Once classes are at full capacity the remaining option is home school. The number of classes available will be based on the number of Volunteers that will be teaching.
If you would be interested in being a part of our team as a catechist or helper, please contact the Religious Education office at (203) 234-9287 or [email protected] Please note that tuition is waived for Volunteer Teachers.
Please follow the prompts for Religious Education and Registration.
God Bless, Coordinators of Religious Education
On Line Giving
Annual Collection Click above, Learn More
Thank You!
Mass Times
Masses Celebrated as Follows:
St. Barnabas - Saturday, 4:00 pm
St. Frances Cabrini - Sunday, 8 am
St. Barnabas - Sunday, 9:30 am
St. Therese - Sunday, 11:00 am

Daily Masses :
St Barnabas - Monday thru Thursday at 8:00 am
No Morning Mass on Friday
Holy Day Mass - As scheduled
.
Sacrament of Reconciliation:
Saturday, 3:00 pm to 3:45 pm. And
during Lent Confessions will also be heard on Monday's from 12pm-1pm and 4:30pm-5:30pm
at Saint Barnabas Church.

Recorded Daily Mass on this website
Social Action
If you would like to become a member of Social Action please call either Deacon Ron Bicknell (203-239-7294) or Barbara Radigan ( 203-239-7839.)
We would be happy to answer any questions that you may have regarding
Social Action. Learn More
Parish Envelopes
**Important Announcement**
~Parish Envelopes~
THE ENVELOPES ARE IN!!
The envelopes are here, one box for the entire year. Envelopes will be available at Saint Barnabas Church in front of the cry room. Please contact Marie or Sharon in the office at 203-239-5378 for any questions. We will have extra boxes on hand. Please let us know if you no longer wish to use your envelopes so we can note our system.
Please let us know if you cannot find your box.
Thank you all for your patience!
St Therese Nursery School
Knights of Columbus Father James F. Donaher Council #3733
The Fourth Degree Honor Guard are honoring our Founder, Blessed Michael McGivney. Please join us for a special Mass. at St. Barnabas Church, 44 Washington Ave., North Haven, CT on Saturday, August 13, at 4:00 p.m.
---
We are again launching its 20/20 raffle to help support our Council's charitable goals and allow us to continue to serve our Parish and community at all three church's on the weekends of August 20 & 21 and August 27 & 28. $2,500 in cash awards are disbursed. over a 20 week period.
Weekly reading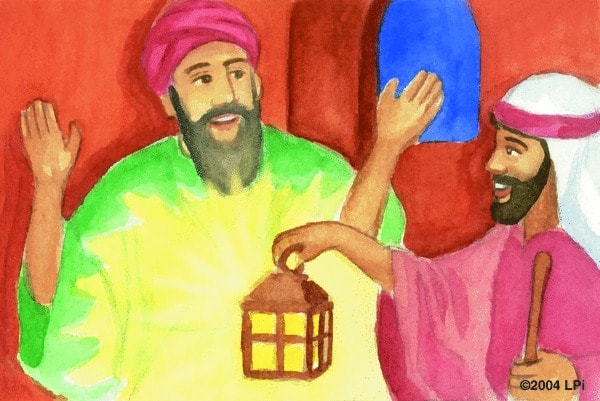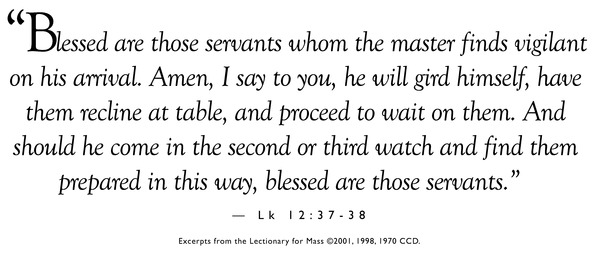 Weekly reading
Readings for the week of August 7, 2022
© Liturgical Publications Inc
Weekly Liturgy
GOSPEL MEDITATION - ENCOURAGE DEEPER UNDERSTANDING OF SCRIPTURE
August 7, 2022
19th Sunday in Ordinary Time
St. Thomas Aquinas reminds us that, "Three things are necessary for the salvation of man: to know what he ought to believe, to know what he ought to desire, and to know what he ought to do." Everyone is called to work toward their salvation, which is ultimately union with God. Those who take this call seriously must embark upon a journey inward to the deepest recesses of their soul. In the adventure and wonder of that journey, we work out the details of our union with our Beloved. We cling to what we need to believe, remain firm in what we truly desire, and are guided by what we know we have to do. Once we know that our goal is to be one with our Creator, life becomes an exciting expedition to pursue that end. We make necessary preparations, follow the map, and remain on course.
Whenever we really want something, we put our entire selves into achieving it. Being fully invested in our labor, we willingly work extra hours, devote an abundance of energy and effort, and remain vigilant for beneficial opportunities that may come our way. We certainly do not passively sit by doing nothing! Such an attitude leads to laziness and the accomplishment of little. Worse yet, some look to others to do the work for them, hoping to reap the benefits of another's efforts. Conscientiousness and diligence are the only means to success.
For the one who eagerly awaits the day when they can be fully with God, life becomes a joyous adventure indeed! Alert, ready, focused, convicted, and willing to be a servant they constantly watch and prepare themselves for meeting the Lord. Loving the journey and being in love with their Creator, their lives become joyful witnesses of love and service. They are secure in their hope, confident in their faith, and perfect in their love. Never looking for recognition or gratitude, they stand as gentle inspirations of what the Holy Spirit can do in the hearts of those who believe. Because we do not know what tomorrow will bring, we stand ready to be used as God wills and run eagerly toward Him when He comes. How much do we desire to experience the joy of salvation?
LIVE THE LITURGY
Inspiration for the Week
The fruits of our labors are not always seen in our lifetimes. Faith is not conditional on seeing results. Faith is a radical trust in what is unseen. It
requires vigilance and self-investment. It requires our attention even when our efforts don't bear fruit or are unappreciated or unrecognized.
A person who is open to accepting God's presence, however it comes, and is willing
to share the love received with others is a true inspiration. Good works will flow from this vigilant depth of faith. It will be directed where it is most needed and detached from the need for recognition or gratitude. Faith exercised in secret is the most profound expression of faith and a testament of true love for our Creator. No one needs to know the humility, generosity,
and goodness of our hearts, only God. Standing erect and watchful, we are prepared to receive the gift of Divine Love and freely share it with others, without recognition or self-benefit.
OBSERVANCES FOR THE WEEK OF AUGUST 7, 2022
Sunday: 19th Sunday in Ordinary Time; St. Sixtus II, Pope, and
Companions, Martyrs; St. Cajetan, Priest
Monday: St. Dominic, Priest
Tuesday: St. Teresa Benedicta of the Cross, Virgin and Martyr
Wednesday: St. Lawrence, Deacon and Martyr
Thursday: St. Clare, Virgin
Friday: St. Jane Frances de Chantal, Religious
Saturday: Sts. Pontian, Pope, and Hippolytus, Priest, Martyrs
Next Sunday: 20th Sunday in Ordinary Time; St. Maximillian Kolbe,
Priest and Martyr
Saint of the Week
August 7, 2022 - 19th Sunday in Ordinary Time
St. Jane Frances de Chantal | August 12
Saint Jane Frances de Chantal was born to a noble family in Dijon, France, on January 28, 1572. Her mother died when she was an infant. Her father raised her and provided for her education. In 1592 She married the Baron de Chantal, the couple were devoted to each other. They had six children, three of whom died in infancy. As Baroness, Saint Jane Frances restored the custom of daily Mass, and was famous for her charitable works. Unfortunately, her husband died in a hunting accident only eight years after their marriage. Devastated Jane Frances was forced to live in her father-in-law's strict household where she took a vow of chastity.
In 1604 while visiting her father in Dijon, she met Saint Francis de Sales and he became her close friend and spiritual director. Although not many of their epistles have survived, the pair had a lively correspondence which lasted until Saint Francis died.
Under the direction of St. Francis de Sales and with his partnership she established the Congregation of the Visitation at Annecy in 1610. This was a unique order, without the extreme ascetical practices typical in other religious orders, accepting women and girls and those rejected by other orders because of poor health or age. The new order was also unusual in its public ministry, rather than a strictly cloistered life. Saint Jane transformed her convent at Annecy into a hospital during the plague of 1628.
The saint died at the Visitation Convent in Moulins on December 13, 1641. At the time of her death, there were 86 convents of Visitation nuns. She was canonized in 1767 by Pope Clement XIII.
EVERYDAY STEWARDSHIP - RECOGNIZE GOD IN YOUR ORDINARY MOMENTS
August 7, 2020 - 19th Sunday in Ordinary Time
Caught in the Rising Action
Think of some of your favorite iconic movies. I'm not talking about the feel-good comedies or the offbeat coming-of-age flicks. I'm talking about the movies that you found had a profound impact on you or made you go "Hmmm."
I'm willing to bet that the plot of this film features some tough moments and difficult scenarios. However happy the ending, at some point, the situation for the protagonist might look awfully hopeless. The script speaks some truth to you about what it is to be human in difficult circumstances. What it means to persevere.
We're attracted to the tension that exists when the hero is besieged. We're captivated by the decisions he makes in the darkest hour of the night when it seems like the dawn will never come. Why? Because we know that feeling so well. This is the essence of our human life on earth: waiting, hoping, doubting — and enduring.
We know the ending to our story, but we don't know when it's coming. We live our whole lives in the rising action of the narrative. Sure, it gets old. Tiresome, even dull. We may start to despair that the climactic scene is coming at all.
But faith is the realization of things hoped for, and evidence of things not seen. We feel it watching a great movie, because we recognize it intuitively: it is faith which earns the happy ending. No one is drawn to the story when the hero gives up or gets tired of waiting for the payoff. Everyday stewardship is the collection of choices we make while we're waiting, because we are called to action, not idleness, even in our perpetual state of expectation.
— Tracy Earl Welliver, MTS
Catholic Questions
August 7, 2022 - 19th Sunday in Ordinary Time
St. Lawrence
Question: On August 10 we celebrate the feast of St. Lawrence. Can you tell us a bit about him?
Answer: Little is known about Lawrence other than he was a deacon during the reign of Emperor Valerian from 253–259. In 258, Valerian began a persecution of the Roman Church. Lawrence was in charge of the purse for the Church of Rome. Roman officials demanded that the riches of the church be handed over to them. Lawrence asked for a few days to gather them.
Lawrence took the money he had charge over and distributed it to the poor of Rome. Then he gathered all the homeless and poor together. When the officials came again demanding the riches of the church, Lawrence pointed to the destitute and homeless, saying that these were the true riches of the church. For this he was imprisoned and tortured, and put to death by burning on a gridiron. It is said that as he was dying, he told his executioners to turn him over because he was done on one side and needed to be fully cooked for the Lord.
Lawrence continues to be a model for us today. The church needs continual reminders that its riches are the people. The primary purpose and mission of the church is to be continually sensitive to the needs of all God's people, most especially the least of our brothers and sisters.
15th Annual Connecticut Catholic Men's Conference
Catholic Men's Conference will take place at Northwest Catholic High School in West Hartford on Saturday, September 24, 2022 beginning at 8:30a.m. and concluding with a 4:00pm. Sunday Vigil Mass. This is a joint effort of the three Latin rite diocese of Connecticut and the Eparchy of Stamford.
The theme of the 2022 Conference is "GOD IS WITH US", focusing on the Most Holy Eucharist,which ties in nicely with the Eucharistic Revival that began on Corpus Christi. Most Reverend Leonard P. Blair and Bishop
Caggiano will be joined by three nationally known priests: Fr. Larry Richards, Diocese of Erie (returning to the conference after 13 years), Fr. Chris Alar, MIC (first visit), and Fr. Wade Menezes, CPM (first visit), reminding us of the truth of the Real Presence. Also a Eucharist Miracles Exhibit that was envisioned by Blessed Carlo Acutis will be on display in the exhibitors hall. Tickets are on sale now HERE
Archbishop's Annual Appeal
Thanks to the generosity of donors to the Archbishop's Annual Appeal our Church is able to provide much needed assistance to thousands of people each year. By uniting our efforts as an Archdiocesan family of faith we serve people in ways above and beyond what any one parish or organization could accomplish alone. We are truly Stronger Together, which is the theme of the Appeal for 2022. Read More.
---
DONATE NOW BELOW!
Thank you for considering a contribution to the 2022 Archbishop's Annual Appeal. Your support will assist the Archdiocese of Hartford to continue its mission of service
To conveniently make a donation or pledge to the Appeal, you are invited to use the secure online form below using your credit (MC, Visa, Discover or American Express) or debit (MC, Visa) card.
Please note that our online form is completely secure and that the information you provide will not be distributed or sold to any other party for any reason. If you prefer not to use our secure online contribution form, please feel free to donate by mail.
THANK YOU to all who generously contributed to the 2021 Archbishop's Annual Appeal
DONATE NOW
Vision Statement
The Parish Community of St. Elizabeth of the Trinity
aspires to be a family of faith, united in the church's mission to make disciples
by proclaiming in word and action - the joy of the gospel, especially to those
most in need of God's love and mercy.
Blog Summary
Posted in Deacon Ernie's Blog
"Your Kingdom come, Your will be done on earth, as it is in heaven…" ... Read More »
Parish Communication
Please do not leave your car parked at the St. Frances Cabrini Church Parking lot after 8 AM Mass. The gate is locked immediately after the Mass. Thank you!
Special Communion Distrabution:
On Mondays, we will continue to be at the parking lot door of Saint Barnabas from 2:00pm - 2:30pm distributing Holy Communion to anyone who is unable to attend Mass due to compromised heath issues because of Covid 19. Please note Communion will be given at the Sacristy door. And there is no need to make an appointment.
Mass Bookings: Bookings can be done in person or over the phone. Please call 203-239-5378 during regular office hours (9:30am to 3pm, Mon. - Fri.) Absolutely no requests can be made by email.
Bulletin Submissions: Please email the info by Tuesdays at 11:00am to: [email protected]
Religious Education Information:
Information regarding registration for religious education is available here Please feel free to contact the religious education office at 203-234-9287 or [email protected] with any questions or concerns. Learn More
Parish Envelopes: The envelopes have been ordered since August and are on back order. The Envelope Company has been having staffing problems besides a paper shortage. As soon as we have more information, we will keep you updated and informed. Please donate by either our online tab or please make sure your name and address is listed on a plain envelope when making a donation.
The envelopes will be in one box for the entire year. Envelopes will be available at Saint Barnabas Church. Please contact Marie or Sharon in the office at 203-239-5378 for any questions. We will have extra boxes on hand. Please let us know if you no longer wish to use your envelopes so we can note our system.
Once envelopes are in please let us know if you cannot find your box.
Thank you all for your patience!
Poor Box: Special envelopes are available marked "Poor Box." If you wish to make a contribution to the poor, please put these envelopes in the collection
basket.
FOR IRS CHARITABLE DONATIONS:
To all Parishioners for IRS charitable donations: If you are a registered parishioner and use the envelopes, we can provide you with documentation of your contributions to the parish for tax purposes
Call the Parish office during business hours 9AM –3PM at 203-239-5378 or fill out the form. The form for 2021 can be downloaded HERE
Thank You!
SPONSOR CERTIFICATES: You must be a registered, active member of St. Elizabeth of the Trinity Parish in order to obtain a sponsor certificate. Please call the parish office at least three weeks before the Baptism or celebration of Confirmation.
Thank you.
To Submit Information For Our Website: Please email Webmaster
note: Father Santiago must approve all submissions.
Thank you for your cooperation, Marie and Sharon

HOW TO REPORT AN INCIDENT OF SEXUAL ABUSE
TO THE ARCHDIOCESE OF HARTFORD

If you have knowledge or suspect that a minor or vulnerable adult (an adult with an intellectual disability) has been sexually abused, in any manner, by personnel of the Archdiocese of Hartford, you are urged to report this information to:
Kathleen D. Nowosadko
Victim Assistance Coordinator
860-541-6475
[email protected]

In addition, you will be asked to follow up in writing with a detailed description of the facts involved in the incident. Specifics of this written report can be found in the Policies and Procedures of the Archdiocese of Hartford Relating to Allegations of Sexual Misconduct Involving Minors and Vulnerable Adults. This document is also available online at www.archdioceseofhartford.org. The Archdiocese of Hartford will report any and all incidents to the proper civil authorities.
Mandated reporters in the State of Connecticut are required by law to report any incident of sexual abuse involving a minor or vulnerable adult. We encourage any Non-Mandated persons to report such incidents to the proper authorities as well. We support your right to do so.
Incidents involving sexual abuse of minors (persons under the age of 18) should be reported to:
State Department of Children and Families Care-line
1-800-842-2288
Incidents involving sexual abuse of vulnerable adults aged 18 – 59 should be reported to the:
Connecticut Department of Developmental Services – AID Division
for Persons with Intellectual Disabilities
1-844-878-8923
Incidents involving sexual abuse of vulnerable adults aged 60 and over should be reported to:
Department of Social Services for the Elderly
1-888-385-4225
Once a written report of an incident of sexual abuse of a minor or vulnerable adult has been received, an investigation will be undertaken by, or on behalf of, the Archdiocese of Hartford.