Blessing of the Animals
Sunday October 8 at St Therese Church, after 11am Mass - Learn More
Christmas Bazaar
PLEASE HELP……
Fall is just around the corner and again we're asking for parishioners help to gather baskets and items for our Christmas Bazaar. Items for theme baskets are welcomed. For example: Coffee, Ladies, Italian, Wine baskets, lottery, etc… We are looking for any other items you wish to donate for our "This & That Table" Lastly, we are accepting jewelry to help with our jewelry sale.
The Christmas Bazaar will be taking place at St. Therese Church, Friday, November 10th from 5-8pm & Saturday, November 11th from 9am-4pm.
We especially now need all volunteers to help at all booths. All High school students in need of volunteer hours, please call the office if you can be of help. Anyone donating baked goods
please have them wrapped and labeled for sale. Mark your calendars to attend for a fun time. Any other questions please call the parish office at 203-239-5378.
Thank you all in advance for your help.
Volunteers are urged to take the Virtus Training Class for "Protecting God's Children" Call Michele Adinolfi for info on how to sign up at 203-234-9971.We are looking for crafters that would like to rent a table for $45 for both days. Please call the parish office at 203-239-5378 to register. We want to always thank our parishioners for all your help and support.
Christmas Bazaar Vendor Application
The Reel of Hope
Monthly Movie Night!
Please join us for movie night on,Sunday, October 15, 2023 at 6:00PM
at St. Barnabas Church
The title of our second movie will be announced next week
Light refreshments to follow
ALL ARE WELCOME!
"Transform your movie night with a touch of faith, and discover the true meaning of entertainment"
Please support our first endeavor to enrich your faith.
Thank you for your support,
Father Santiago, Father Ajeesh,
Father Thomas
Office Hours
Parish Office / Rectory Hours
Monday - Friday 9:30 am - 3:00 pm

Religious Education Office Hours
Monday, Wednesday, & Thursday 4:30 to 7:30 pm
Mass Times
Dear Parishioner's

ST. BARNABAS CHURCH
SATURDAY MASS– 4:00PM
SUNDAY MASS– 9:30AM

ST. FRANCES CABRINI CHURCH
SUNDAY MASS 8:00AM

ST. THERESE CHURCH
SUNDAY MASS 11:00AM

DAILY MASSES: MONDAY-THURSDAY
8:00AM at ST. BARNABAS CHURCH

HOLY DAYS– AS SCHEDULED

SACRAMENT OF RECONCILIATION:
SATURDAY, 3:00PM-3:45PM AT
ST. BARNABAS CHURCH

Thank you for being a supporter and a valuable member of our community.
God Bless, Rev. Michael Santiago

Recorded Daily Mass on this website
Welcome
Welcome to our Parish

Rev. Michael Santiago, Pastor
Parochial, Father Ajeesh Ouseph
Father Thomas Joseph, OFM Cap
Steve Bilodeau, Deacon
Ronnie Bicknell, Deacon

St. Elizabeth of the Trinity Parish, is the Merger of the 3 Churches in
North Haven,  St. Frances Cabrini, St. Therese, and St. Barnabas.
On Line Giving
Annual Collection Click above, Learn More
Thank You!
Blessing of the Animals
Sunday, October 8,
2023 after the 11am Mass at
St. Therese Church Learn More
Religious Education Information
Religious Education Registration is Closed
Confirmation Registration is still open at this time
To Register for Confirmation Classes, Click Below.
Connect with Religious Education Coodinators, Ann Marie or Cecilia
Phone (203) 234-9287 or email [email protected].
Please be advised our office hours for emailing, returning or answering phone calls are Monday, Tuesday and Thursday between the hours of 4pm to 7:30pm.
Please reach us or stop by during these hours.
If you would be interested in being a part of our team as a catechist or helper, please contact the Religious Education office.

Please note: that tuition is waived for Volunteer Teachers.

All High School Students in need of volunteer hours, please connect with our Religous Education Office.
God Bless Everyone,
Religious Education Coordinators, Ann Marie and Cecilia
Request Form for 2022 Tax Statement
Woman's Club Ministry
Visit our Womans Club Ministry webpage to Learn More
Marriages
To Schedule your wedding at St Elizabeth of the Trinity Parish, please contact the parish office. Learn More
Knights of Columbus
The North Haven Knights of Columbus, Father James F. Donaher Council #3733 "20/20 Raffle" just ended after 20 weeks of drawings. Visit our website for a list of all the winners, including our seven final winners. https://www.kofc3733.org/ Congratulations to our Grand Prize winner – Domenico Iacobelli. Thank you to those that supported us for this important fundraiser.
Social Action Committee
On Monday, October 2, Social Action had a packing party for Samaritan's Purse. View Photos
Our October Outreach will support an organization called BOXES TO BOOTS. Thank You
Learn more.
Weekly reading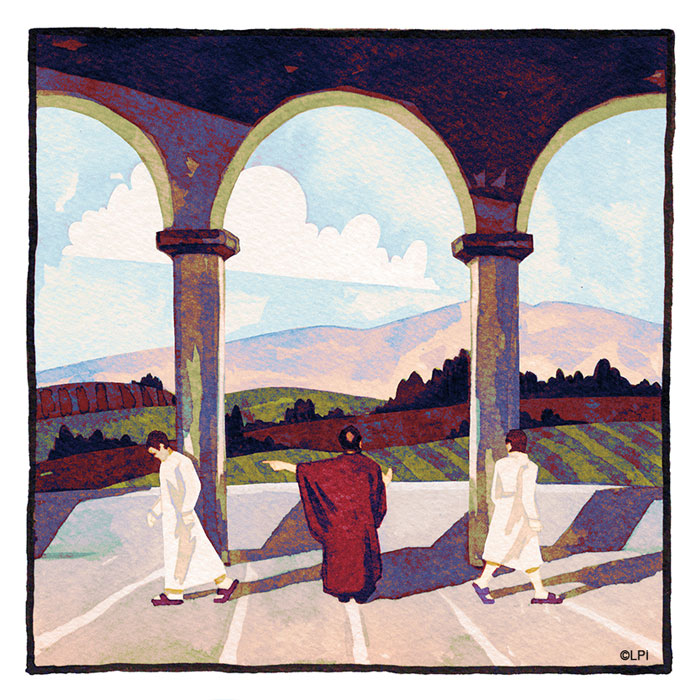 Weekly reading
Readings for the week of October 1, 2023
© Liturgical Publications Inc
Quotes
To ALL of our parishioners of St. Elizabeth of the Trinity Parish!
We would just like to thank everyone who signed up to volunteer their time, donated goods and to our sponsors who give so generously. We would also like to thank those of you who supported our raffle, we could not do this with out you. It is a beautiful sight to see the parishioners from allthree of our churches volunteering as one Parish. The compassion all of you showed to the people we serve is an inspiration for us all.
To all volunteers we just wanted you to know that your work hasn't gone unnoticed. We will have a final total of the profit made from the festival & raffle combined to be reported in a future bulletin. The support from all who donated makes a major fundraising event held by our parish most successful and is needed and greatly appreciated!
Thank you again,
Father Michael Santiago & The Festival Committee
Blog Summary
Posted in SAINT OF THE WEEK + Venerable – the title given to a candidate for sainthood whose cause has not yet reached the beatification stage but whose heroic virtue has been declared by the pope. on 09/30/23
Saint Bruno of Cologne | October 6
Bruno, born in 1030, is also known ... Read More »
Posted in SAINT OF THE WEEK + Venerable – the title given to a candidate for sainthood whose cause has not yet reached the beatification stage but whose heroic virtue has been declared by the pope. on 09/30/23
St. Francis of Assisi | Feast Day October 4
St. Francis of Assisi (1181 ... Read More »
Posted in SAINT OF THE WEEK + Venerable – the title given to a candidate for sainthood whose cause has not yet reached the beatification stage but whose heroic virtue has been declared by the pope. on 09/30/23
St. Theodora Guérin
Short Bio St. Theodora Guérin, a French immigrant to the United States, ... Read More »
Parish Communication
Please do not leave your car parked at the St. Frances Cabrini Church Parking lot after 8 AM Mass. The gate is locked immediately after the Mass. Thank you!
Special Communion Distrabution:
On Mondays, we will be at the parking lot door of Saint Barnabas Church from 2:00 - 2:30 pm distributing Holy Communion to anyone who is unable to attend Mass due to compromised heath issues because of Covid 19. Please note Communion will be given at the Sacristy door. There is no need to make an
appointment.
Mass Bookings: Bookings can be done in person or over the phone. Please call 203-239-5378 during regular office hours (9:30am to 3pm, Mon. - Fri.) Absolutely no requests can be made by email.
Bulletin Submissions: Please email the info by Tuesdays at 11:00am to: [email protected]
Religious Education Information:
Happy Spring!
Registration for the 2023-2024 Religious Eudcation will go live on June 16, 2023. Please note Registration for 2023 2024 Classes, will be online only.
Please feel free to contact the religious education office at 203-234-9287 or f[email protected] with any questions or concerns. Learn More
Parish Envelopes: The envelopes have been ordered since August and are on back order. The Envelope Company has been having staffing problems besides a paper shortage. As soon as we have more information, we will keep you updated and informed. Please donate by either our online tab or please make sure your name and address is listed on a plain envelope when making a donation.
The envelopes will be in one box for the entire year. Envelopes will be available at Saint Barnabas Church. Please contact Marie or Sharon in the office at 203-239-5378 for any questions. We will have extra boxes on hand. Please let us know if you no longer wish to use your envelopes so we can note our system.
Once envelopes are in please let us know if you cannot find your box.
Thank you all for your patience!
Poor Box: Special envelopes are available marked "Poor Box." If you wish to make a contribution to the poor, please put these envelopes in the collection basket.
FOR IRS CHARITABLE DONATIONS:
To all Parishioners for IRS charitable donations: If you are a registered parishioner and use the envelopes, we can provide you with documentation of your contributions to the parish for tax purposes
Please fill out the form. The form for last year can be downloaded HERE .
Thank You!
SPONSOR CERTIFICATES: You must be a registered, active member of St. Elizabeth of the Trinity Parish in order to obtain a sponsor certificate. Please call the parish office at least three weeks before the Baptism or celebration of Confirmation.
Thank you.
Blood Drive: The Saint Elizabeth of the Trinity parish is hosting a Blood Drive for the American Red Cross on May 31st from 1-6 at Saint Frances Cabrini Church 57 Pond Hill Road, North Haven.
Please go to htpp://www.redcrossblood.org to schedule your donation. (Sponsor ID NHWC) We urge all eligible parishioners to participate in this drive as your
donation might make a life or death difference for someone in or around our community.
To Submit Information For Our Website: Please email Webmaster
note: Father Santiago must approve all submissions.
Thank you for your cooperation, Marie and Sharon